Thursday, August 14, 2008
I back from Sibu on the 5th of July by driving and reach Kuching around 6.30am. Once we reached Kuching, I didn't direct went home but I went to Roy house to have a nap and wake up around 9.30am because me, Roy and Ian have to reach
Pasir Pandak
(Santubong) by 10am for Paint Ball. The Paint Ball location is located at Pasir Pandak, Santubong. Once you turn into there, just follow the main road and you will discover a sign board with "
Sg. Buah
" at your rightside, just turn into there and you can see the place. The name of the place is "
Borneo Paint Ball
".
*And this is where they prepare all the things.

Before we start the game, everyone has to listen to the briefing on our safety. Because the owner of the place was late, so there is another person brief us. And his 1 of his gang who invite us for this game. They are all pro in playing this already.
*He is the one who brief us at the beginning, our opponents also.


*Everyone has to pay attention to the briefing.


*If you can look closely, the one with light blue shirt is the owner of this place,

Mr Sim

.


So, after the briefing, everyone of us know that what's the name and use of our equipment. And we also know the ways to make sure our friends and our own safety. The equipment include mask, neck protector, vest and marker. When we are in the game, once we step into the war field, we have to make sure our mask in on. As long as when we're in the war field, we cannot take our mask on no matter what happen (such as there's bee go inside your mask) to protect your ears and eyes. If you encounter this problems, you have to raise your hand and call for the marshal to help you. This is the most important things to remember when we're playing paint ball. Besides that, we also have to avoid to point the marker to anyone before the game start, the safety pin have to be on before the game start. And if we start shooting, we also can't point the marker to high because it might cause the paintball to fly outside the war field and hit somebody else.
*This is the mask that have to be equipped all time during the game.


*The vest. If you don't wear also can but you have to tahan the pain.


*
The cloth with XXX is the neck protector, you can also don't use it if you're not scare to have love bite on your neck.
*This is the gun, and it's called marker.


*The paint ball.
So, what are we waiting for?? It's time to equipped ourself. Our team is using the black vest and our opponents are using the brown vest. As we know, we sure will lose to them because 90% of our team members are playing this for the first time only.
*Guess which one is Ian and which one is Roy??

*It's time to equipped ourself!!!


*Our opponents!!
There's two kind of war field, one is the jungle and one is just a face to face field with many bunkers. For this time, we just play the game in the jungle because there's too many of people. If I'm not mistaken, every team got about 12 people.

*Queuing to get our marker.


*Is everyone ready??
*So, everyone is in the field. Before the marshal start the game, let's discuss strategies.

*The game is about to start in 10 second, please take your position!!!
*This is what we called camping. Hide to wait for enemy to come.
We play for 4 games from 11am until 2pm. Although our team just win 1 of the game, but all of us really enjoy the game. All of us just spend RM50 at the beginning for all the equipment and first 100 bullets. After you finish your first 100 bullets, for every reload, 100 bullet just cost RM20. So, if you want to play until very syok, RM70 is enough, unless you really want to be rambo and shoot non stop, you can always reload if you think that the bullets is not enough for you.
*Head shot!!
*Our team!!!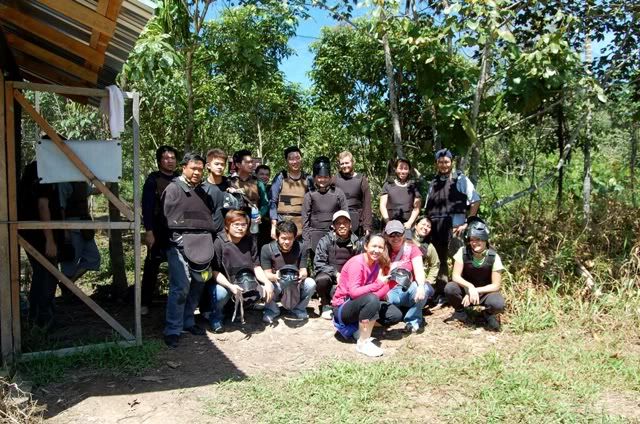 *Yeah!! It's a nice game. Actually there are more people but many of them didn't join in to take photo.
*This is what I got after the game. Can you feel the pain!!
This is just my first time of playing paint ball and I really like it although I got some 'love bite'. After this game, me, Ian and Roy start to asking our own friends for next game. And guess what, many of our friends really to to join us also. For the next time, I will the the person who giving other people 'love bite', hahahaha~~~ If anyone who like to play paint ball, don't forget to ask me for the game, I would to like join you people also.